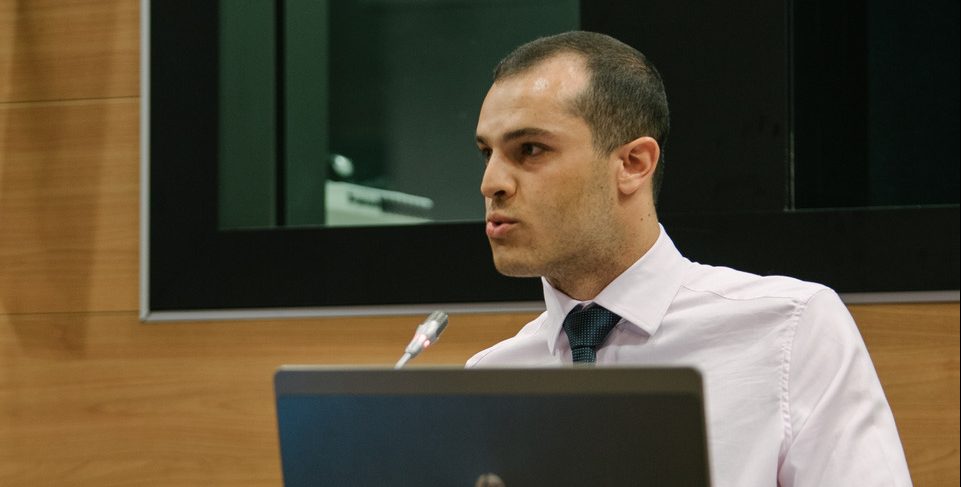 by Christina Tsangaris
– August 8, 2018
Q&A with the newly elected President of NEPOMAK, Christos Tuton
How does it feel to be President of NEPOMAK?
It's an incredible honour to be the President of NEPOMAK and try to continue the fantastic work that my predecessors, particularly Antonia Michaelides and Christos Karaolis, have done for this organisation. NEPOMAK brings together young Cypriots from around the world and I'm humbled to have the opportunity to take this wonderful organisation forward.
How did you get involved in NEPOMAK?
I was at a Cypriot community event in London back in 2014 when, funnily enough, Antonia Michaelides approached me, told me about NEPOMAK and inspired me to get involved. I was only 19 at the time and had no idea that I'd eventually go on to become Global President after she stepped down – but it shows that anyone can get involved at any time and go on to play an important role in the organisation!
What has been your involvement in NEPOMAK up to now?
In 2014 and 2015 I started going to NEPOMAK UK events and committee meetings, I was also picked to go on NDCP 2015 which was an incredible experience and the first time I had ever met overseas Cypriots from countries other than the UK. After that I was elected Treasurer of NEPOMAK UK in 2016, Vice-President of NEPOMAK UK from 2017-2018, Internships Coordinator for NEPOMAK Global in 2017, and now Global President.
Why should people get involved in NEPOMAK?
Thousands of young overseas Cypriots around the world have had their lives enriched from being involved in NEPOMAK. The organisation has been going for 15 years, and in that time many people have benefited from participating in or organising the various programmes and initiatives that we offer, both on a global and a regional level. Being involved helps people develop a wide-range of skills including inter-personal and leadership skills to name just two.
An equally important reason to get involved with NEPOMAK is that it's a lot of fun and offers a unique opportunity to develop strong friendships with young Cypriots from around the world.
What would you like to introduce during your time as President of NEPOMAK?
I would like to make sure that we communicate the great work that we do through social and traditional media – it's important that even more overseas Cypriots become familiar with NEPOMAK and the excellent opportunities that we offer.
Along with Antonia stepping down, several other key individuals in the organisation have also left our youth organisation after many years of service. That means that one of the main challenges of the next few months will be to build a new team and continue the exceptional work that our predecessors have put in place, and therefore one of my main focusses will be to get the new team moving in the right direction.
What are some of the important events we should look out for on the global NEPOMAK calendar?
There are three major events that people should keep an eye out for:
NDCP (NEPOMAK Discover Cyprus Programme): this is a trip to Cyprus for 18-22 year-olds that gives participants the opportunity to tour the island, learn much more about Cypriot culture and history and also build long-lasting friendships with other young Cypriots from around the world. It runs in July for roughly three weeks every year and participants stay at the University of Cyprus halls of residence. www.nepomak.org/ndcp
NCCT (NEPOMAK Cyprus Culture Tour): this is a trip for 23-30 year-olds and gives participants the opportunity to take part in an action-packed 10-day trip to Cyprus through guided tours and authentically Cypriot interactive experiences. www.nepomak.org/ncct
NEPOMAK Conference: representatives of NEPOMAK meet up in Nicosia to discuss issues affecting Cyprus and NEPOMAK and have the opportunity to shape the direction of the organisation. The agenda has a great balance of seminars, interactive workshops and the opportunity to socialise with other delegates and experience some of Cyprus' night life.

www.nepomak.org/world-conference
I also encourage people to find out more about the exciting internships and scholarships that we offer to our members. We offer internships with the Cyprus Space Exploration Organisation, the Cyprus Mission to the United Nations in New York, and with various Cypriot Government Ministries. We also offer masters and MBA level scholarships with the Open University of Cyprus.
What would you like to see from the Cypriot diaspora as global ambassadors for the island?
I think it's important to remember that Cyprus is a small island with a small population – in other words, there are not that many Cypriots, despite how vibrant and thriving our diaspora is. Therefore, I believe that as a Cypriot diaspora we must do all we can to work closely together, stay organised and promote the beautiful island of Cyprus. It's particularly important that as a diaspora we continue to raise awareness about the Cyprus issue and never give up campaigning for a free, united Cyprus that all Cypriots can be proud of and benefit from.
I also believe that being a tight-knit diaspora has many benefits for us in London, New York City, Sydney, Athens, Toronto, Johannesburg and wherever else we live around the world, as it gives us a strong sense of identity and self-awareness – things that we cannot underestimate the importance of.
Interview by Christina Tsangaris, NEPOMAK UK Newsletter Coordinator